Julius Nyerere Leadership Centre (JNLC) in partnership with UNDP Ugnada and Makerere University organised a Youth Leadership Training for all Guild Leaders in Uganda at Protea Hotel, Kampala.
Theme: "Positioning Youth Leaders to drive Sustainable Development Goals and Uganda's Development Agenda"
The Training Programme brought together 86 student leaders in two (2) different cohorts drawn from various universities and tertiary institutions of higher learning in Uganda. The 1St Cohort commenced on 24th July to 28th July, 2023 and the 2nd Cohort from 31st July to 4th August, 2023. Leaders were mobilised to participate in the training through their leadership structures at the various universities and institutions. The modules for the Leadership Training included 1. Leadership Development— Servant Leadership 2. Conflict Resolution and Management 3. Strategic Leadership and Management 4. Political Leadership and Democratic Governance 5. Communication, Financial Literacy and Social Action Programmes for Youth Leaders 6. Mental Health and Physical Well being of leaders 7. Emotional intelligence of leaders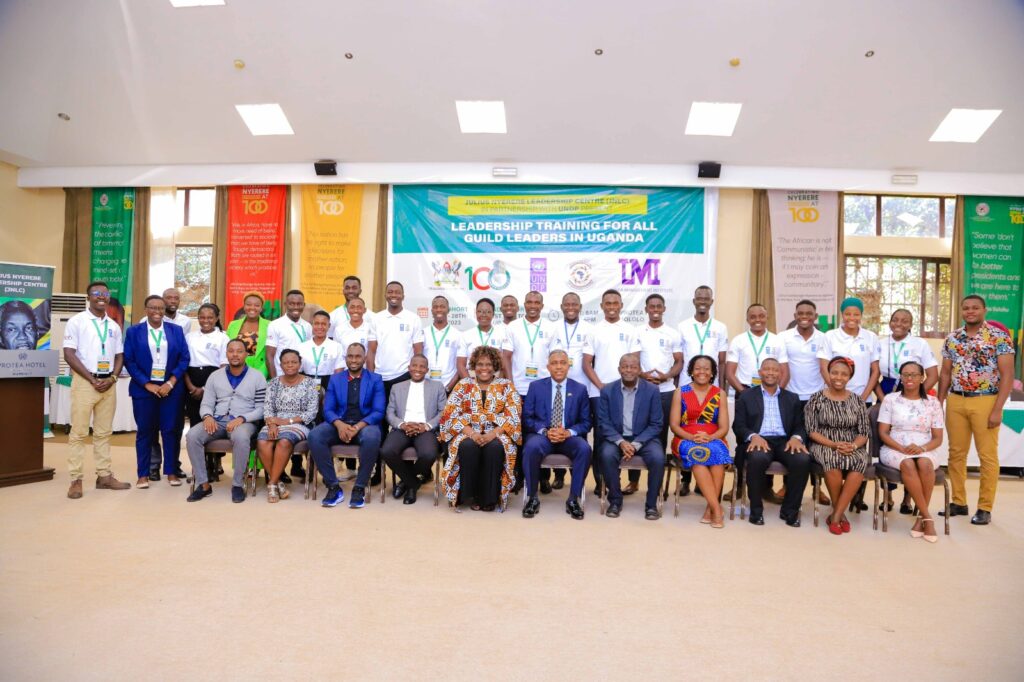 Why youth leadership?
The rationale for focusing on the youth was to equip current and prospective young leaders with transformative leadership skills to enable them maximize their potential and improve their performance to effectively influence development policies and programmes.
The training was officially opened by Mr. Mondo Kyateka, Commissioner for Youth and Children, Ministry of Gender, Labor and Social Development who encouraged the youth leaders to take hold and use of the knowledge and skills they learned from the training.
In her opening remarks, Ms. Sheila Ngatia, Deputy Resident Representative UNDP Uganda noted that UNDP partnered with Makerere University to be able to roll out the kind of Leadership Training and Capacity Building as an investment in the future leaders of Uganda. She also emphasized that it is important to engage with young people as they represent the latest constituents of the population who have a central role to play in the development journey of the beautiful country, Uganda.
Dr. Eric Awich Ochen Deputy Principal College of Humanities and Social Sciences represented Vice Chancellor Makerere University, Professor Barnabas Nawangwe.

Both cohorts were honored by the presence of Mr. Patrick Bitature on Day (5) of the LEADERSHIP TRAINING. His inspirational talk took the participants through the history of Africans and their struggle for economic liberation. He challenged the students to dream big, to be patient and consistent in order to realize their full potential as young leaders.
Other special guest speakers included AMBASSADOR ARIKANA QUAO an Entrepreneur, Educator, Diplomat and African Union representative to the US 2017 – 2019, Mrs. Joanita Mukasa Menya, Trained Economist and Seasoned Commercial Professional shared her experience on leading self and leading others, Mr. Tony Otoa, Chief Executive of Stanbic Business Incubator and Consultant in the Energy Sector. He shared his leadership experience and life journey with the Youth Leaders and Colonel Hamza Maulid Burah,Defence Attache-High Commission of the United Republic of Tanzania to Uganda, He shared a brief history on the Leadership Ideals and the East African Community as envisioned by Mwalimu Julius Nyerere.
At the official closing of the Youth Leadership Training for all Guild Leaders in Uganda, Prof. Henry Alinaitwe represented the Vice Chancellor Makerere University, Professor Barnabas Nawangwe Prof. Sarah Ssali, JNLC Board Member, gave the closing remarks at the official closure of the Youth Leadership Training for all Guild Leaders in Uganda