The theme, " The Legacy of Nelson Mandela & the Role of Higher Education in the African Union Agenda 2063."
As part of its activities to celebrate 100 years of excellence, Makerere University hosted the annual Nelson Mandela Public Lecture on Monday, 18th July 2022, in the Yusuf Lule Central Teaching Facility Auditorium under the theme, "The Legacy of Nelson Mandela and the Role of Higher Education in the African Union Agenda 2063."
The Nelson Mandela Public Lecture is organized annually under the Department of Political Science and Public Administration, in collaboration with the South African High Commission.
The keynote speaker was Prof. Augustus Nuwagaba, a renowned international consultant on economic transformation and the guest of honour was Lulu Xingwana, the South African High Commissioner to Uganda.
Key Note Speaker | Prof. Nuwagaba Augustus
Prof. Nuwagaba Augustus an International Consultant On Economic Transformation is a proud alumnus of Makerere University. Aside from graduating with an MBA and PHD from Makerere, he has also taught at Makerere for 26 years and was the Keynote Speaker.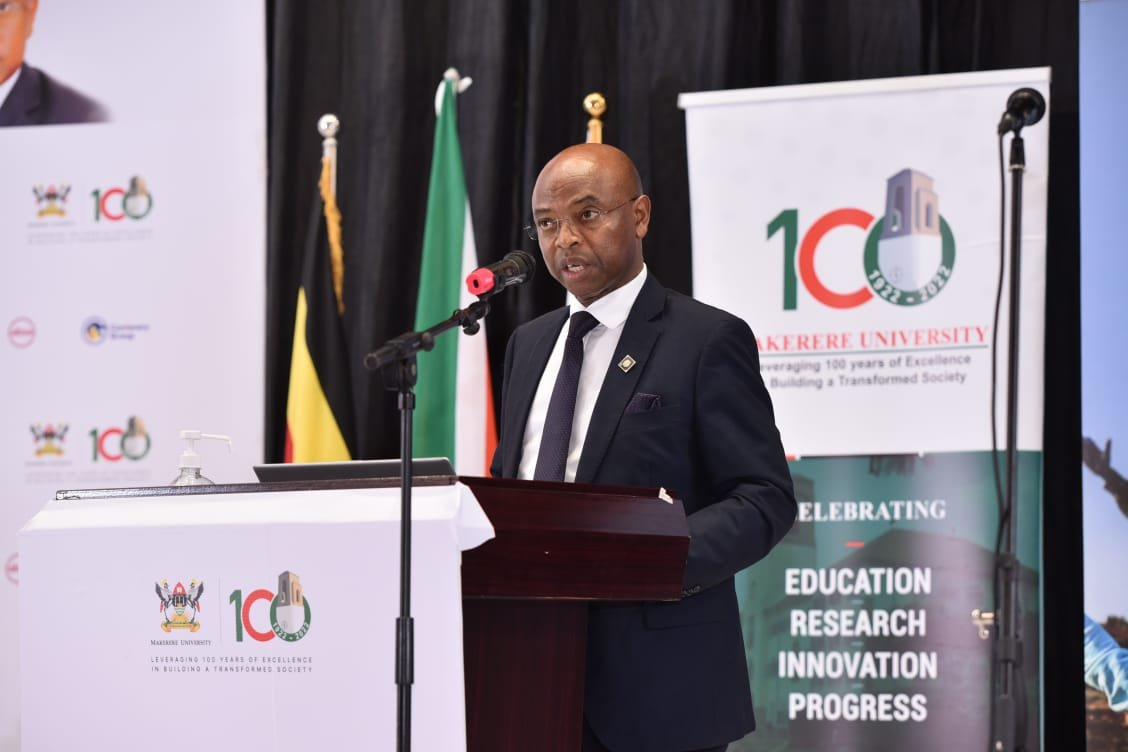 Mandela`s contribution to higher education in Africa
i) Policy inspiration: Mandela was a very inspirational leader and figure across the continent. Mandela`s beliefs and messages on education are reflected in his famous quotes.
ii) Dismantled post-apartheid education system: The Apartheid system in SA created educational inequalities through overt racist policies. Mandela reversed these inequalities leading to an equitable state education system for all races.
iii) Enhanced education access for the poor:
One of Mandela's legacies is the founding of the Mandela Institute for Education and Rural Development in South Africa, set up to help provide quality education for children in impoverished rural areas.
Mandela's values;
Patriotism, Nationalism and Pan-Africanism
Mandela was fiercely committed to the delivery of the black race from apartheid.
Resilience
Arrested for 27 years, He was released on his own terms in 1990, paving the way for his ascendancy to Presidency in 1994. However, he exhibited unparalleled resilience and never wavered from the ideals of the struggle until liberation was realized.
Reconciliation and forgiveness
At the end of the apartheid struggle, Mandela shunned the path of revenge. He instead chose the path of healing and fostering racial reconciliation with the erstwhile apartheid white supremacists for the good of the country.
Humility, modesty and selflessness
After assuming power after the struggle as South
Africa`s first black President in 1994, Mandela shunned the ostentatious life which characterizes
many leaders and educated elite in Africa.
Professor Barnabas Nawangwe, Vice Chancellor, Makerere University.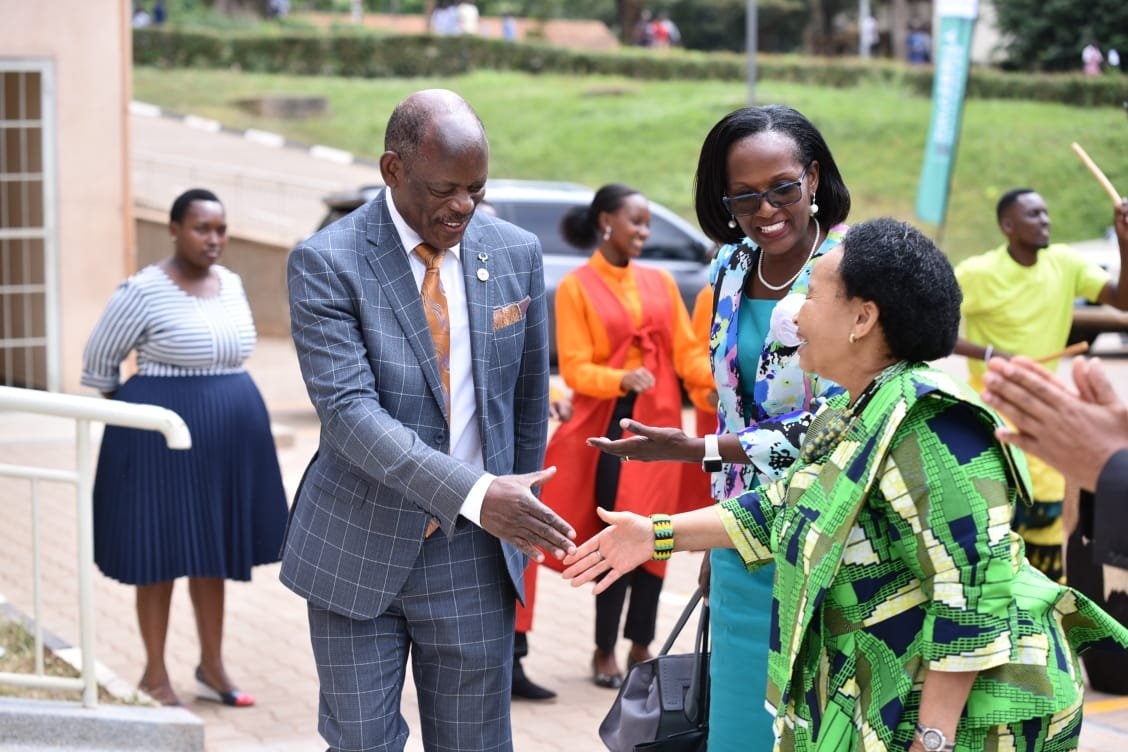 Remarks : "the Fifth of #MakerereAt100 Lecture Series and as a university are proud to dedicate it to a gallant son of Africa, who fought so hard to deliver his people as well as many of us in Africa from mental slavery, exacerbated by oppressive rule.
He also said "As you may be aware, Makerere played a key role in nurturing freedom fighters and political activists that would go on to liberate their respective countries, as the wave of independence swept across the continent in the mid-20th Century."
Bob Marley once said, "Emancipate yourself from mental slavery."
---
The Chief Guest for this year's Annual Nelson Mandela Public lecture, Her Excellency HE Lulama Marytheresa Xingwana, The South African Commissioner.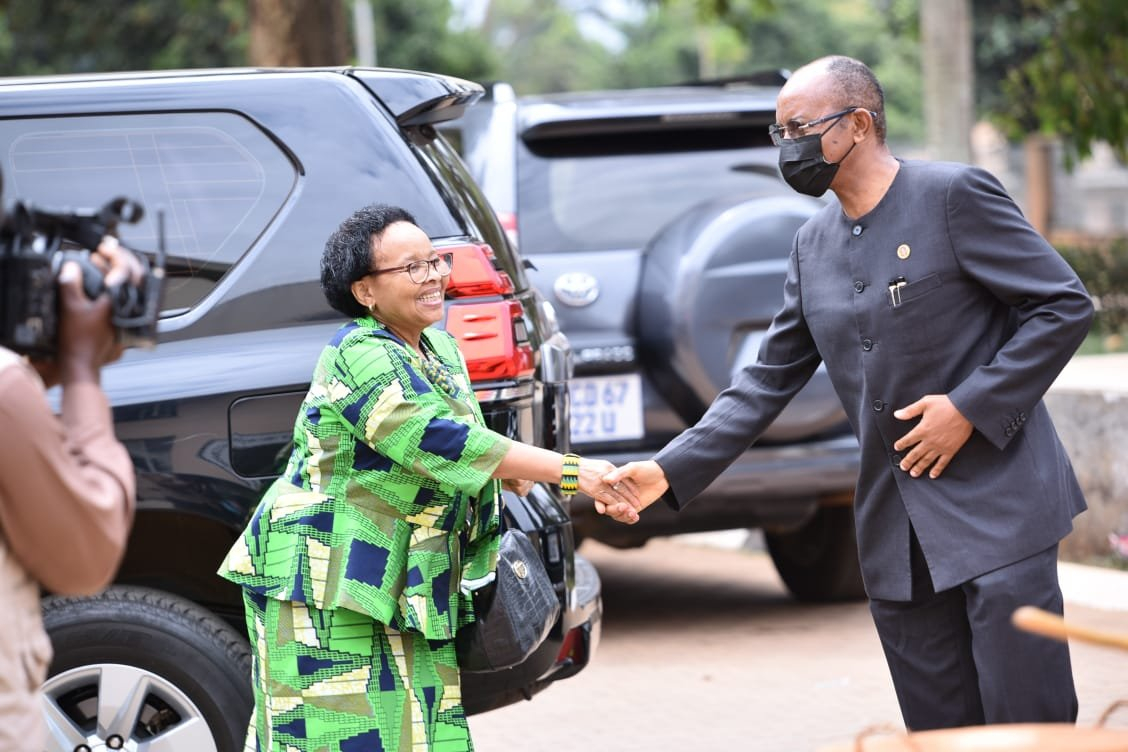 Remarks;
"We cannot give up and say we cannot have a Nelson Mandela in our era.
Africa, we have a young population, let us educate and empower them to take over, not only here, they are needed all over the world.
"28 years ago, the world woke up to the 1st free democratic elections in SA all thanks to Mandela and his freedom fighter comrades like Winnie Mandela and Oliver Thambo etc."
" I am extremely honoured and privileged to be a part of this auspicious Public lecture."
We hold this lecture to celebrate the legacy of this servant of the people.
---
Dr. Nansozi K. Muwanga, The Executive Director of The Julius Nyerere Leadership Centre (JNLC).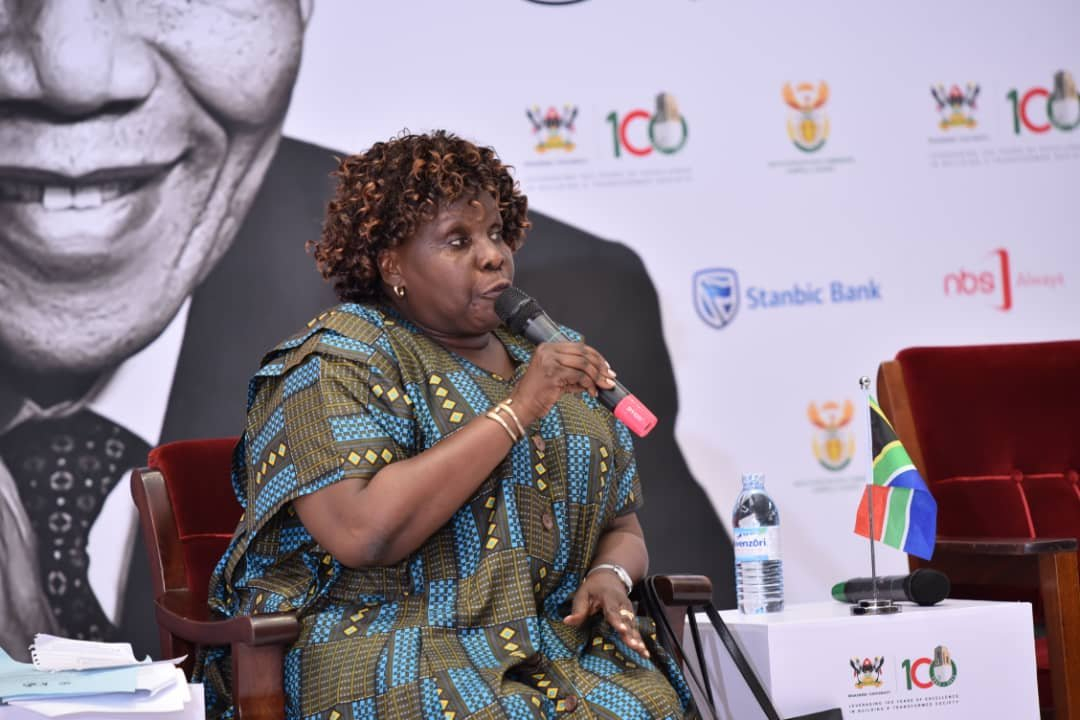 Remarks : "Mandela was so determined to pursue education, that he studied for his Law degree while in jail for over 20 years despite the challenges he faced."
---
Dr Fred Muhumuza :
" I scavenged for education from wherever I was, as Mandela said, a country without an educated population will never make it."
"The legacy of an intellectual is how they impact the world, Mandela impacted the black race as such we celebrate the #MandelaDay.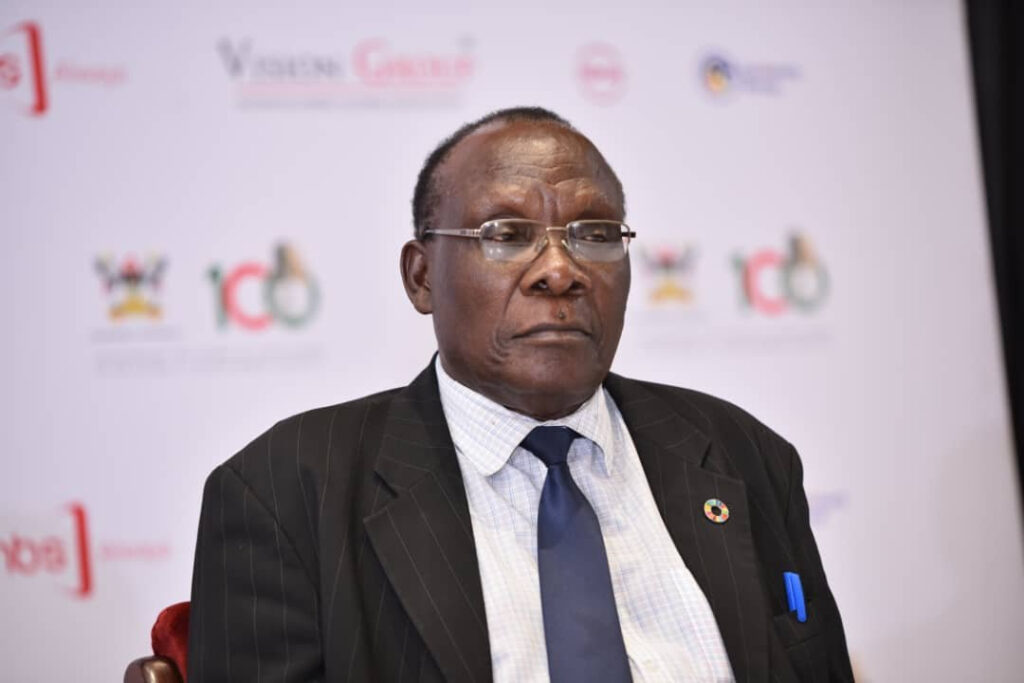 Prof. Eriabu Lugujjo the current vice chancellor of Ndejje University, in his remarks said
"With our population today, it's not possible to have the entire population educated with our economic constraints. We ought to re-examine our national priorities in favour of quality education."
In his remarks, Prof. Eriabu Lugujjo stated; " When I joined Makerere in 1966, we were 14 students from entire East Africa doing Mathematics while sleeping in Livingston Hall."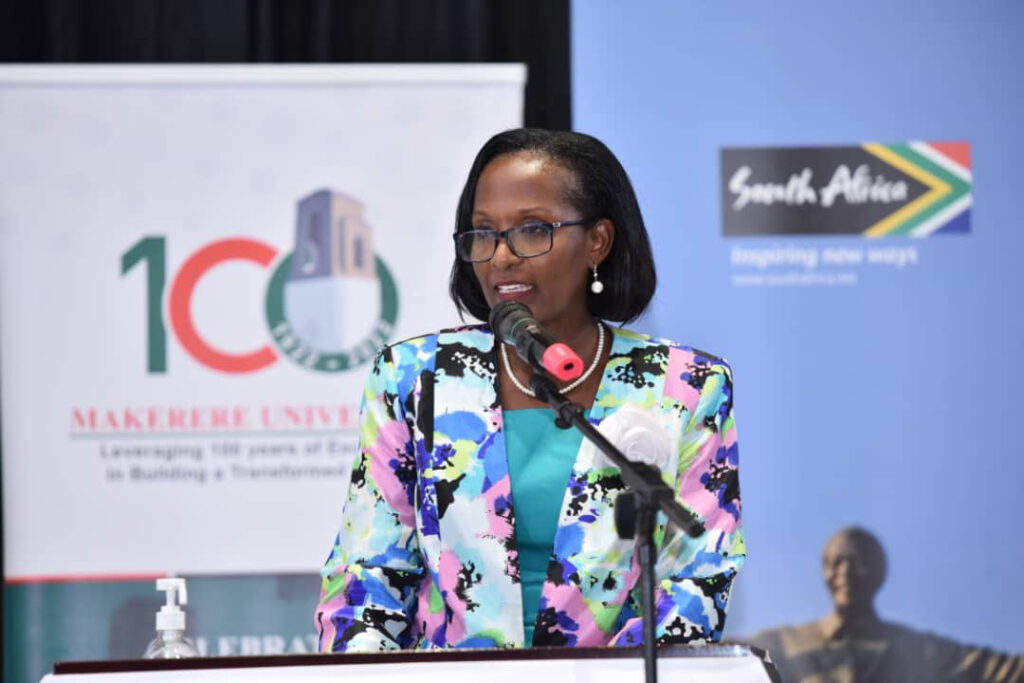 Mrs.Lorna Magara
Remarks
"There is no better time than the present to pause and reflect. What is the place of nation-building and reconciliation in today's relentless pursuit of skills necessary for economic success."
Mrs Lorna Magara @MagaraLorna the Chairperson Makerere University Counci | Principal Vine International Christian Academy noted that
; "If Nelson Mandela had put his own freedom before those suffering under the tight grip of apartheid, we would not be here today." She also said, "Had Nelson Mandela, upon release from prison, opted for revenge against the apartheid white supremacists instead of racial reconciliation, we would not be here today."